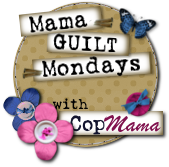 My mama guilt today ...
Fuzzy has been sick for three weeks. Runny nose, cough, slight congestion, slight fever. Nothing to get us overly worried. He's cutting four teeth, his canines, so I thought a lot of the crankiness and drooling was due in part to that.
I wanted to take him in a week ago. I decided to wait.
"It isn't
that
bad. And, they'll send me home to 'wait it out' anyway."
I finally decided to take him to the doctor when his coughing fits were waking him up from sleep and naps.
His fever was 104. Both his ears had "raging" infections. His lungs had pneumonia.
I started to cry. The doctor said, "You either get here too early for us to know what it is, or too late and they're super sick. You'll never make it on time. Don't worry about it."
I'm not so much worried as ... the guilt is eating me alive.